Is hand sanitizer out of stock at your local store due to the coronavirus scare?!?!  This tutorial will teach you two easy ways to make homemade hand sanitizer!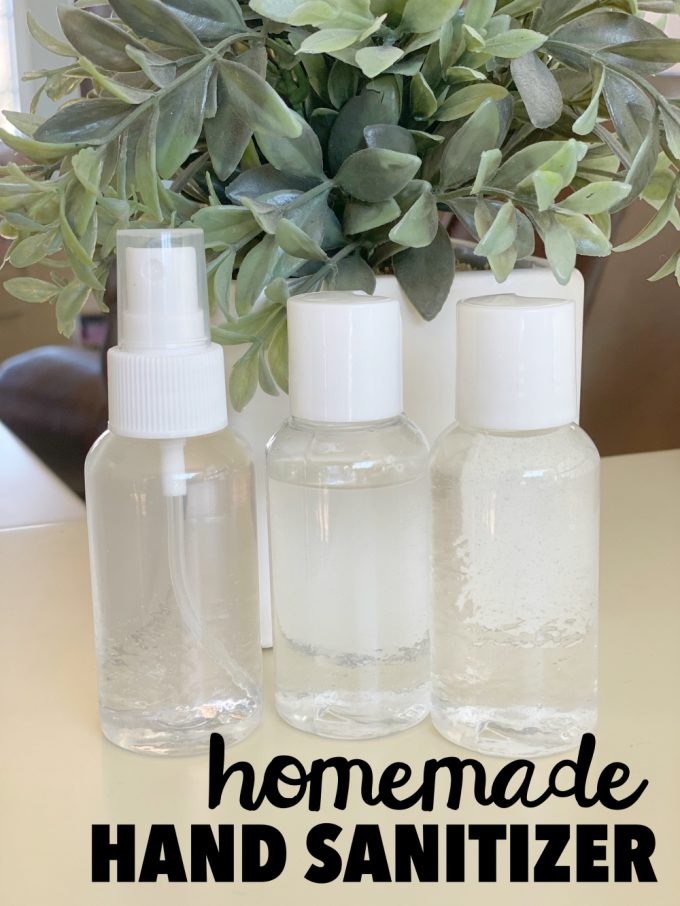 As the coronavirus (COVID-19) continues to make its way across the globe, cleaning and hygiene supplies are in high demand.  Our state has not yet had any reported cases of the coronavirus, so I was extremely surprised when I went to my pharmacy this week to pick up some photos and overheard staff members telling customers they were completely out of hand sanitizer and did not know when they would be getting more.  I was curious to see if this was limited to our little pharmacy or whether this would be an area-wide problem.  Sure enough, Walmart and Costco were both out as well.
Although we still have some hand sanitizer on hand, I wanted to try making my own homemade hand sanitizer using common household materials just in case (or to share with friends and neighbors who are currently out).  I'm sharing two different recipes for hand sanitizer (or "hanitizer" as my kids used to call it).   ☺️
The best way to prevent infection…
Washing your hands vigorously with soap and water for at least 20 seconds is ALWAYS recommended over simply using hand sanitizer.  But for those times when soap and water aren't readily available, hand sanitizer is a good alternative.  The Centers for Disease Control (CDC) states that, "Alcohol-based hand sanitizers can quickly reduce the number of microbes on hands in some situations, but sanitizers do not eliminate all types of germs."  The CDC also states that hand sanitizers do not work as well on dirty or greasy hands and that the hand sanitizer must be allowed to fully dry to be effective.  Finally, be sure to keep your hand sanitizer (homemade or store-bought) out of the reach of young children as swallowing alcohol-based hand sanitizers can cause alcohol poisoning.
Now that we've talked about the nitty-gritty details, here are the supplies you'll need for both recipes:
-Bowl
-Spoon
-Small Funnel
-Empty plastic containers and/or pump bottles
Homemade Hand Sanitizer Made with Rubbing Alcohol
This recipe uses plain ol' rubbing alcohol.  The higher percentage in your rubbing alcohol, the better.  One of the recipes I found said to use 99% rubbing alcohol.  I could not find any rubbing alcohol at my pharmacy with that high of an alcohol content, so I used 91%.  This is still higher than the 60% alcohol guideline from the CDC.  I suggest adding some drops of essential oil, not just for scent purposes but because lavender and tea tree essential oils are both known to have naturally-disinfecting properties.
2/3 cup Rubbing Alcohol (aka isopropyl alcohol, we used 91%)
1/3 cup aloe vera gel (or more if you like a thicker gel-like hand sanitizer)
8-10 drops of lavender or tea tree essential oil
Combine the mixture in a small bowl.  Stir continuously until the mixture is smooth and use a funnel to pour into your empty containers.  Using the above proportions will leave a more watery-mixture that can also be used as a spray.  If you want a thicker hand sanitizer, add more aloe vera gel OR use the next recipe.
Hand Sanitizer Made with Vodka
I have never bought vodka before, so this was a first for me!  Try to find a bottle of vodka with at least 60% alcohol content (I didn't realize until I got home that the vodka I purchased only has 40%).  😬
1/3 cup vodka
2/3 cup aloe vera gel
15 drops of lavender or tea tree oil
Combine the mixture in a small bowl and stir vigorously until smooth.  Use a funnel to pour into your container(s).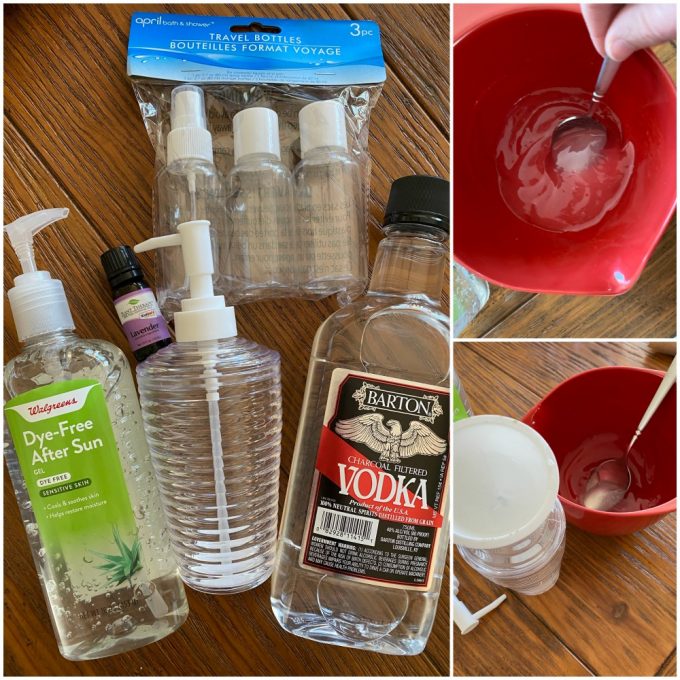 That's it!  Now you don't have to worry whether or not your local store is stocking hand sanitizer, you can make some at home!
PS- You might also be interested in making this DIY Air Purifier!