Men can be difficult to buy for, especially if you are trying to stick to a budget!  Check out these awesome stocking stuffers for men under $20!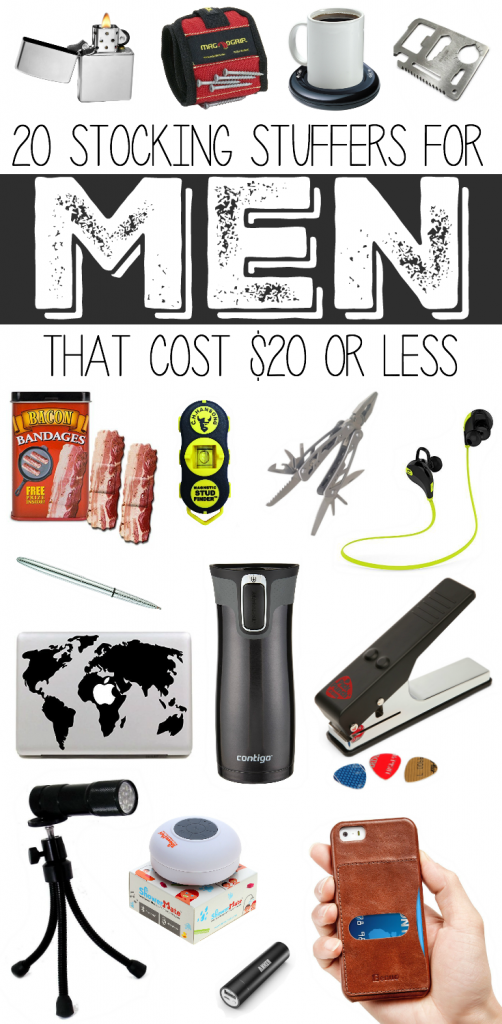 Is it just me, or are men sometimes 
really 
hard to buy for?  I have found this is especially true when trying to buy stocking stuffers.  I get tired of giving someone a Starbucks or iTunes gift card (even though I know they are appreciated as I myself LOVE to receive a Sonic gift card).  🙂
I decided to compile a list of SUPER AWESOME stocking stuffers for men under $20.  Please note:  At the time that I am writing this, every single item on this list is priced under $20…but because retailers are known to change their prices with no warning, I cannot guarantee that this will still be the case.
There is something for everyone on this list:  guys who are techy, outdoorsy, those who build things, and guys who like bacon.  Without further ado, here are 20 awesome gifts for guys:
Stocking Stuffers for Men
Please note:  The links in this post are affiliate links.  Go here to read our full disclosure.
ShowerMate Bluetooth Shower Speaker
I bought one of these for every guy in our family last year and they were a HUGE hit.  My little brother (who is 25) said it was his favorite gift that he got for Christmas.  And it is under $15!
Portable Charger for Smart Phone
A great way to charge your smart phone or device on the go.  This charger is the size of a lipstick tube and is said to fully charge any device.  Perfect for when you are traveling and can't find an outlet.
Bluetooth Wireless Sports Headphones
I think any man or woman would love these headphones…especially if you are a runner!  The Bluetooth technology allows you to listen to your device without being plugged into it.  They are currently priced at $19.99, but who knows how long they will stay that price.  I will be buying my husband these (act surprised, okay honey?).  🙂
This might seem like an "old man" gift to give…but if you have seen the movie The Intern (with Robert DeNiro and Anne Hathaway), you will know why I am including these.  🙂  This generation of men needs to be the kind that carry handkerchiefs.
My husband is a pen guy.  In my mind, a pen is a pen is a pen.  But he considers himself a connoisseur of pens (did I mention he was born in the wrong decade?).  🙂  Anyway, this pen is supposedly awesome.  It writes at any angle (even in zero gravity!) and in extreme temperatures.  Plus, it kinda looks cool and is said to write after being submerged in water.
After all, even manly men get paper cuts.  🙂
Whether you are hanging a picture on the wall or building a new shop, every man can use a stud finder.  The great thing about this stud finder is that it doesn't require batteries and hangs hands-free on the wall once it has found a screw/nail.
Man's fascination with fire can be traced back to the days of the cave men.  🙂  Whether you need a lighter for camping or starting the grill, these Zippo Lighters are masculinely timeless.
This is another great gift for men who frequently work with their hands, whether in construction or auto repair.
Leather Smart Phone Case with Card Holder
A wallet or money clip is a pretty traditional gift for men, but this leather iPhone case has a card holder built right in so he doesn't need to carry either!
This flashlight can either be used with the tripod for hands-free light or it can be detached and used like a regular flashlight.  This would be a great flashlight to keep in the car as well!
This would be a fun gift for a man who spends a lot of time on a laptop.  There are several options to choose from, including Ironman for the comic book lover.
My man is as manly as they come…but he still likes his fingernails to be well-trimmed (even more so than I do).
This is one of those items that deserves to be on Shark Tank!  What a brilliant gift idea for guitar players and musicians.  This punch recycles credit/gift cards and turns them into picks!
This zippo product isn't a lighter…it is a refillable hand warmer!  Great for men who spend a lot of time outdoors in the winter months!
We love our Contigo travel mugs…my husband uses them regularly to keep his coffee warm on the go and the kids use them to keep their milk cold!
Using a LifeStraw, you can literally drink out of any water source.  It removes 99.9999% of waterborne bacteria and parasites and surpasses EPA standards for water filters.  This is a great gift for someone who frequently goes camping, hiking, or travels oversees!
This Mug Warmer seems a bit ludicrous to me (as someone who doesn't drink coffee), but it would be great for someone who drinks coffee regularly at work!  In fact, I'm sure my husband would think this is brilliant!
The best thing about this little gadget is that it comes in a pack of ten, making it under 70 cents a piece!  Includes bottle opener, knife edge, ruler, and some other random slots for uses I can't figure out!
This tool includes 2 Pliers, Wire Cutter, Saw, 4 Screwdrivers, 2 Knives, Bottle opener, File.
These are perfect for the outdoorsman who spends a lot of time outside during the cold winter months!
These sleek and stylish playing cards are perfect for poker…and they are PLASTIC so they won't tear or ruin if they get wet!
These gloves are perfect for staying active during the winter months but still having the use of your phone!
Which of these stocking stuffers for men would the man in your life like best?