We recently returned from Florida where we went to Walt Disney World for two days and then went on a 3-night Disney Cruise.  We had an amazing trip but my kids all say that the cruise was their favorite part!  And although one or two more nights would have been great, we greatly enjoyed the time we spent on the cruise.
I've compiled a list of things that we found helpful and fun for our Disney cruise that are not your typical packing lists like bathing suits, sunscreen, etc.  These are things that we don't necessarily pack for any other vacation but found to be necessary for this one.  We found the Disney staterooms to be extremely spacious and accommodating, even for our family of 5!  It is our hope this list helps in planning your own magical adventure!
Please note:  Some of the links in this post are affiliate links.  Go here to read my full disclosure.
1.  A Power Strip (without surge protector)
Disney Cruise accommodations are truly magical, but you will be hard pressed to find more than 2 or 3 outlets in your Disney cruise stateroom.  I read online that cruise ships do not allow power strips with surge projectors, so we brought this power strip along and it was a lifesaver for plugging in all of our phones and devices!  The power strip comes with 3 foreign plugs as well that we didn't need for this trip, but will be nice for future travel!
If you have a room with a balcony, this clothesline will come in super handy!  Most cruise lines advise against hanging anything over the railing of your balcony because items can easily blow, but this travel clothesline is a great solution because it is right up against the plexiglass railing so nothing can fly away.  It is the perfect length to attach to hang all your wet swimsuits.  There is a clothesline in the shower of your stateroom, but it is a pain to have to move swimsuits to take a shower.  Plus, being outside in the wind dries them WAY faster!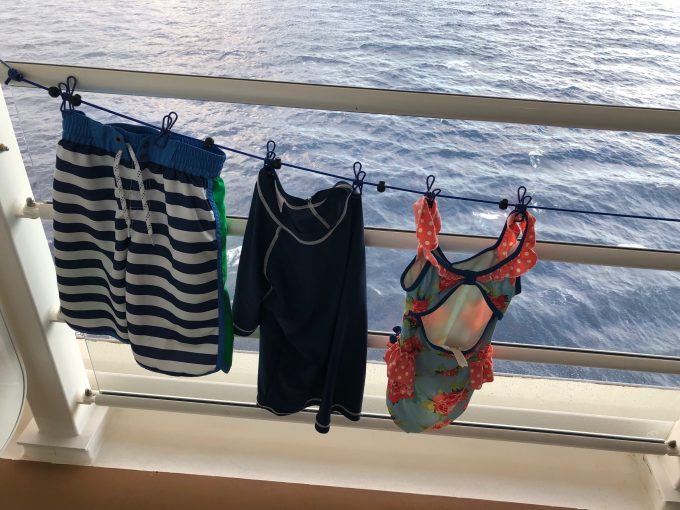 I have a very difficult time sleeping without a ceiling fan running on full blast (first world problems, I know).  I hate lying in bed awake in the middle of the night, unable to sleep, in a quiet room with stagnant, unmoving air.   This little travel-size fan ensured that I got a good night's sleep every night and it is SUPER powerful for its size.  There are three speeds and I found that it fits perfectly on the little side table with a great angle towards your face.  It is extremely quiet (I actually wish it was a little louder for more white noise) and I am SO thankful that I brought it along!
4.  Hand Soap with a Pump
Disney provides bar soap in all the bathrooms, but the idea of using bar soap after using the restroom sort of grosses me out.  I packed a new bottle of hand soap and it was very helpful!  We went on our cruise in the middle of flu season, so this made me feel a bit better about everyone having clean hands!
5.  Motion Sickness Patches/Medicine
I have heard tales of people sailing in hurricanes and being unable to feel any type of movement on the ship.  I, however, was acutely aware of most all the movement while aboard the Disney Dream, one of Disney's largest ships in their fleet.  I took along these motion sickness patches that I wore and they seemed to help somewhat, but next time I will opt for the prescription patches.  We also brought along a prescription of Zofran and ended up giving half of a pill to my 11-year old son who got sick in the night (he wore a motion sickness patch the following night and didn't have any problems).
6.  Lanyards
If this is your first time sailing with Disney cruises, you will have to provide your own lanyard if you want one (repeat guests get a complimentary lanyard).  I purchased everyone in our family one of these lanyards and they were super helpful as every member of our family needed a "key to the world" card which works as your room key among other things.  All three of my kids ended up leaving them somewhere at some point while we were on the ship and the lanyard made them much easier to locate.  Plus, it helps to have a lanyard for when you trade Disney pins!
On the last evening of the cruise, you can trade Disney pins with the captain's staff.  My kids LOVED this and I was so thankful that I had ordered some Disney trading pins ahead of time (especially as ONE PIN costs $10-$15 aboard the ship).  I ordered 25 Disney pins off of Etsy for $16 shipped!  My kids had a blast and the pins are a fun (and very small) souvenir from our trip.
8.  Bottled Water
If you have the opportunity to get some sealed bottled water to bring with you, this will save you quite a bit on the ship.  It is not advisable to drink the water from the stateroom and, depending on where your room is, it can be quite a jaunt up to the soda fountains on the pool deck.  Just make sure you don't open any of the bottles ahead of time or they won't let you bring them on the ship.  Any food or drinks have to be factory sealed (I packed 5 peanut butter sandwiches as I wasn't sure when we would be able to eat and had to toss them when we went through security to get on the ship).   There is a small refrigerator in every stateroom where you can keep your bottled water.
We were also told by multiple people prior to our trip to bring our own water bottles to refill our cups on the pool deck, so we brought a YETI cup for every member of the family.  But once we got aboard the ship, there were signs at all the beverage dispensers that said we were not allowed to use personal cups.  Perhaps this is a new rule for Disney (or maybe they just want to sell more bottled water), but next time I wouldn't pack our YETI cups.
9.  DIY Pirate Night Attire
We had fun dressing up for Pirate Night (and the fireworks at sea).  I just cute some ragged edges on several of my husband and son's old white undershirts, then cut some strips of clearanced red fleece I bought at the fabric store to tie around our waists.  We all wore black pants/shorts.  Finally, I purchased some $1 bandanas from Hobby Lobby, but Disney Cruise Lines also gives each person a Pirates of the Caribbean bandana to wear.  We finished off our costumes with some cheap eye patches and ended up spending less than $10 on everything combined!