One of our favorite vacation spots to take our kids over the years has been Keystone, Colorado.  Our favorite time to go to Keystone is in the summer, although we have been there several times in the winter as well (but after my husband tore his ACL while skiing there this past February, we probably won't be skiing again for quite some time).  Summertime is truly magical in Colorado…and it is the perfect place to relax and beat the 100 degree heat that we are normally facing at home.
Going to Keystone is uber relaxing for the whole family.  It is the perfect blend of adventure and tranquility.  Keystone is far enough removed from the more popular tourist destinations in Summit County like Breckenridge and Vail, but there is still tons to do, especially if you are willing to drive a bit.
We normally stay a full week when we go to Keystone in the summer.  We schedule one or two activities from the list below to do each day and then spend the rest of our time going on walks by the river and relaxing.
Where to Stay:  
We love renting a condo in the Starfire section of the Keystone resort.  Each condo we have stayed in has had a full kitchen and multiple bedrooms, giving us plenty of space and allowing us to only have to eat out at the most once per day.  We also love the proximity of the Starfire condominiums to our favorite secluded walking trail.  Wild Irishman and Soda Springs would also be good locations for condos that might be slightly less expensive.  The town of Dillon, Colorado is literally 7 minutes away  and there are several hotel options there as well!
Here are some of our favorite things to do in Keystone:
::  Go on nature walks and short hikes.  
There is an amazing and secluded trail along the river just steps from the condo where we love to stay.  It is a dirt path and is one of our favorite places to stroll, stopping to throw rocks in the river and make boats out of bark.  There is also a trail in the River Run area the goes behind the gondola and around the side of the mountain that is beautiful for nature walks.
We love Alpine Slides (go here for proof)!  And Breckenridge has the BEST Alpine slides and they also have TONS more for kids and adults alike at the Breckenridge Epic Discovery.  From ziplines to bungee trampolines, roller coasters to tubing, you can spend an entire day having fun on the Breckenridge mountain.  And Breckenridge is just a 20-minute drive from Keystone!
This was especially thrilling when our boys were younger and in their "train phase".  The Georgetown Loop Railroad is historic and iconic.  Going on the train is worth it just the get to see (and ride across) the Devil's Gate High Bridge, an iconic bridge in the Rockies.
You can also take a mine tour mid-way through the train ride.  The tour takes about an hour (2 1/2 hours total with the train ride).  But please be advised that children under 5 are not allowed to participate in the mine tour.  Because we have always had a child under 5, we have not done the mine tour yet!
::  Go whitewater rafting.
We went white water rafting several years ago when our boys were 3 and 5 (it was more of a float than whitewater rafting – our three year old fell asleep)!  In all honesty, Keystone is not the ideal place to whitewater raft…the closest place is about a 1.5-hour drive.  But it makes for a super fun day trip if you don't make it to the mountains very often.  We traveled to Buena Vista, which was a beautiful and scenic 1.5 hour drive (one way).  You can sign up for rafting with Keystone Resort or even in Breckenridge that will transport you, but we knew our kids would be more comfortable riding in our own vehicle (with the DVD player) rather than a bus with other passengers.  There are several companies that offer whitewater rafting, but we chose The Adventure Company and had a fun experience!  We want to go back again and do more adventurous rapids now that our kids are older!
::  Take a gondola ride up to the top of Keystone Mountain.  
The view from the top of Keystone mountain is breathtaking.  There is also a restaurant at the top to eat at (beware:  the prices are high).  We have taken picnic lunches to the top, enjoyed the views, and hiked around.  If you are early enough in the season, you an also go tubing at the top of the mountain with the snow that is left over!  They normally close this down in mid-July, but we were lucky enough to do it on their very last day one year!
::  Feed the chipmunks on Swan Mountain.  
There is a parking area on Swan Mountain (between Keystone and Breckenridge) where you can take a trail to an amazing overlook.  Take some sunflower seeds with you and you will find a plethora of friendly chipmunks waiting for a snack.  This simple activity ended up being one of our kids' favorite things!
**Safety note**:  Many caution against feeding chipmunks as they can spread disease.  From my limited research, this seems to be a danger at lower elevations where fleas and ticks can affect the chipmunks.  If you choose to do this, do it at your own risk.
::  Explore Lake Dillon.
Lake Dillon (also known as the Dillon Reservoir) is truly spectacular.  It is one of the most beautiful places in Summit County.  There is a walking/biking path around the lake and you can even rent sailboats!  We love having a picnic in Dillon overlooking the lake.
::  Go to the Dillon Farmer's Market.
As mentioned previously, the town of Dillon (just off of 1-70) is just about 7 minutes away from Keystone.  They have an AMAZING farmer's market every Saturday morning in the summer!  Not only is there tons of produce and handmade items from various artisans, there is also normally live music and some fun activities for kids!  We enjoyed this giant hamster wheel!
On the other side of the Interstate of the town of Dillon is the town of Silverthorne (I have no idea why two towns that are literally right next to eachother have separate names, but that is neither here nor there).  Behind the Silverthorne Recreation Center is the most amazing park we have ever been to (except for perhaps the park next to the Space Needle in Seattle).  This park is HUGE and there is also a skateboard park adjacent to it.
We normally save the Keystone Stables Dinner Wagon Ride for our last night in Colorado as it is one of our very favorite things to do!  You leave Keystone Resort on a bus for 15-minute ride into the mountains, as far as the paved road will take you.  You then get out and board a horse-drawn wagon (or horse-drawn sleigh in the winter) that takes you where motor vehicles are no longer allowed.  The view in the Soda Ridge Valley is absolutely breathtaking and the history of the homestead is so neat!  After eating a delicious meal, you can enjoy camp songs around a bonfire, throwing horseshoes, and exploring!  It truly feels like you are in a different time!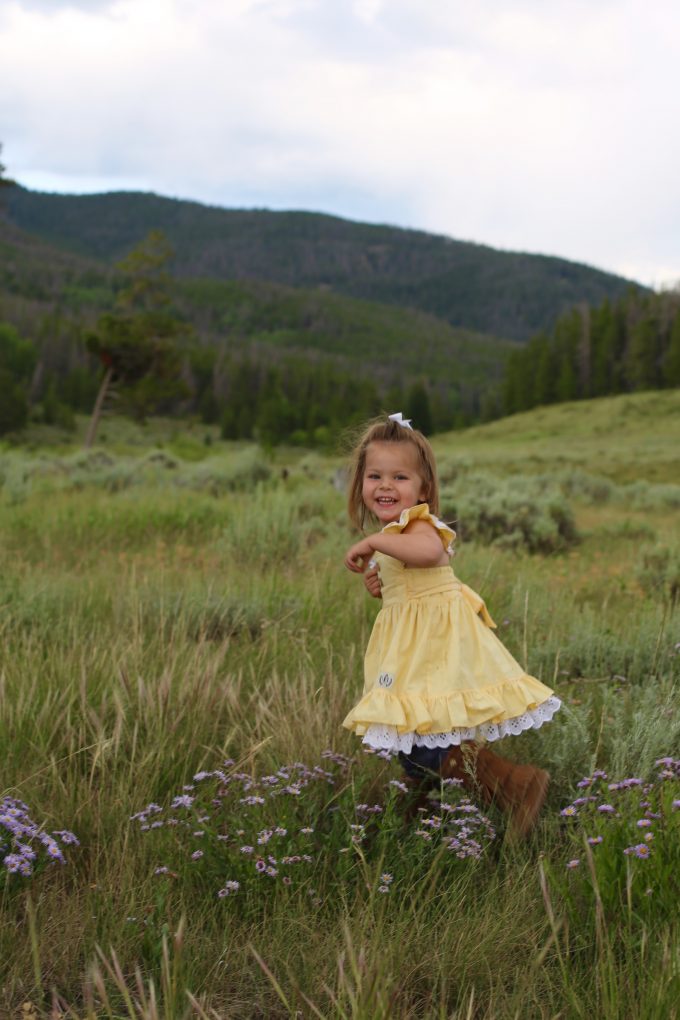 Writing this post and seeing our pictures from over the years makes me want to go back!  We have been many beautiful places as a family, but Keystone will always be one of very favorites!!!
I have NOT been compensated for this post in any way- every place I have mentioned is solely because we have been there and enjoyed it!