There is nothing special about my home besides the people that I share it with.  I am not a great decorator.  We don't have fancy furnishings. It is comfy and it is lived-in.  And I am certainly not arrogant enough to think that my home is worth displaying.  It really is nothing special.  But a home is a reflection of an individual and our home reflects both my husband and I as well as our children.  Personally, I love getting to see the homes of people I follow online so I thought it might be fun to share.  🙂
Just to give a little background…we live in a 2-story English Tudor home (with a basement) originally built in 1985.  We are the third owners of the home.  The main floor houses our entryway, kitchen, living room, dining room, mudroom, and a half bathroom.  The second story is where you will find all four bedrooms, our laundry room (it is soooooo nice to have it right by the bedrooms), and 2 full bathrooms.  Our basement has a small family room and the rest is storage (and it remains a perpetual disaster, in all honesty).
I would describe our style as "Clean Cottage", which I'm pretty sure I just made up.  And also, it has nothing to do with the cleanliness of my home.  That is questionable on a good day.  I just really don't like clutter or busyness, so most of my walls are pretty empty except for family pictures.  My mood is majorly affected by light (especially in the winter), so I like my house to be sunny and have lots of natural light, hence the white and cool colors on the walls.  I like things to look clean and simple, but I also like the distressed, lived-in look.  My favorite home decorating show is "Fixer Upper" on HGTV (although we no longer have cable so I rarely get to watch it), and Joanna Gaines is my hero.  I want to decorate like her one day.  🙂
You might also notice that we don't have any window treatments.  Last year we replaced all our windows and chose the Pella Design Series windows that have the accordion-style shades inside the window itself.  We LOVE them!  It helps reduce the amount of dust in our home, which is especially helpful for our kiddo with horrible environmental allergies.
Kitchen:
The cabinets are painted "Extra White" and the wall color is "Sea Salt", both by Sherwin Williams.
(Ignore the sight words on the refrigerator and the pile of junk)
Our little breakfast nook area.  This is where we eat 95% of our meals.
Living Room:
Wall color is "Sea Salt" by Sherwin Williams (a trend you'll see in many rooms of our home)
The forward-facing book display in the corner was purchased here.
Mudroom
This part of our house used to be a very small office right by the garage.  It basically became a landing place for TONS of junk (which you can see here), so we decided to knock out the wall and make it a mudroom.  Although it is usually still cluttered with shoes, backpacks, and jackets, it has been the best "upgrade" we've made to our house (especially since my husband did it himself) as it makes coming in and out of the house so much easier!  The walls are currently painted "Nomadic Desert" by Sherwin Williams.
Read more about our this room and our rolling storage bins here.
Master Bedroom
This room is pretty small in comparison to most Master bedrooms, but it is perfect for us.  The walls are painted "Comfort Gray" by Sherwin Williams, which is one shade darker than "Sea Salt" on the same color swatch.  🙂
You can read more about this room here.
Boys' Bedroom
Even though we have enough bedrooms for each of our three children to have their own room, we have chosen to let our boys share a bedroom (at least for now).  Although it can sometimes make it harder for them to fall asleep at night, it is our hope that they will be bonded for life through the time that they spend together.
This room is painted "Kilim Beige" by Sherwin Williams.  You can read more about their room here.
Little Sister's Nursery
I had so much fun decorating Little Sister's nursery using many special things from my grandmother, who has since passed away.
You can read more about Little Sister's room here.
The two dresses on the sides were mine when I was a baby and the one in the center was my grandmother's.
My husband built this beautiful dollhouse bookshelf for our little girl.  Go here for the tutorial.
Kids' Bathroom
This might be my favorite room in the house…and I can't believe we remodeled such a beautiful bathroom for the kids.  It used to look like this….seriously brown and sectioned.  We torn out the wall and then moved the bathtub/shower combo into what used to be the closet of Little Sister's room.  We then created a closet for her using an existing hall closet (we just sealed it off from the hallway and then made a door in her bedroom).  We chose to do a pocket door for the bathroom so that there was more space.  The walls of this room are painted "Sea Salt" by Sherwin Williams (surprise, surprise).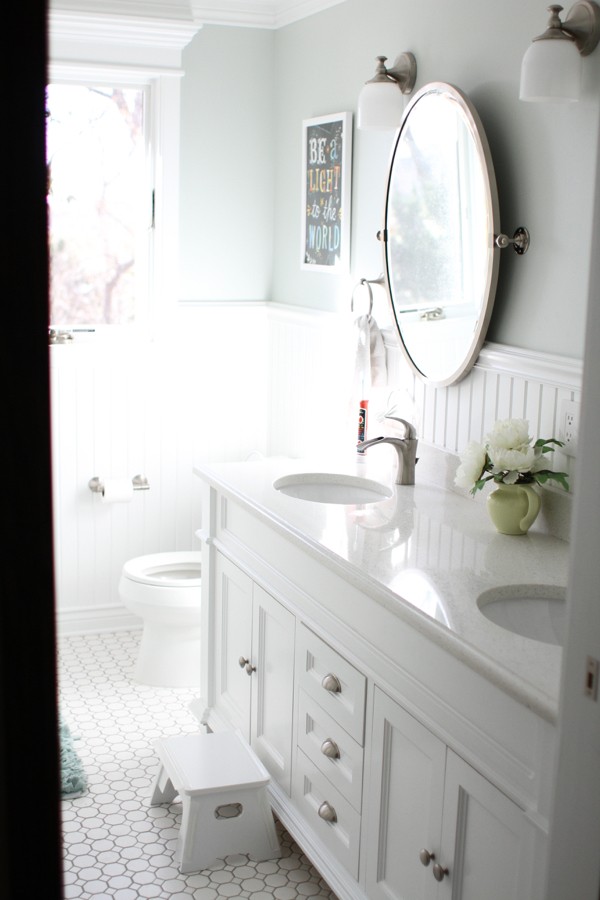 The "Be a Light to the World" artwork came from theWheatfield Etsy shop.
And just in case you need a little dose of reality at my house.  There's this…what my storage room basically always looks like.  Even when I spend hours cleaning and organizing, it still ends up looking like this within a few days (and possibly even a few hours).  I've learned that it is better for my blood pressure to just shut the door, go upstairs, and not think about it.  But now you can feel better about yourself, right?  🙂