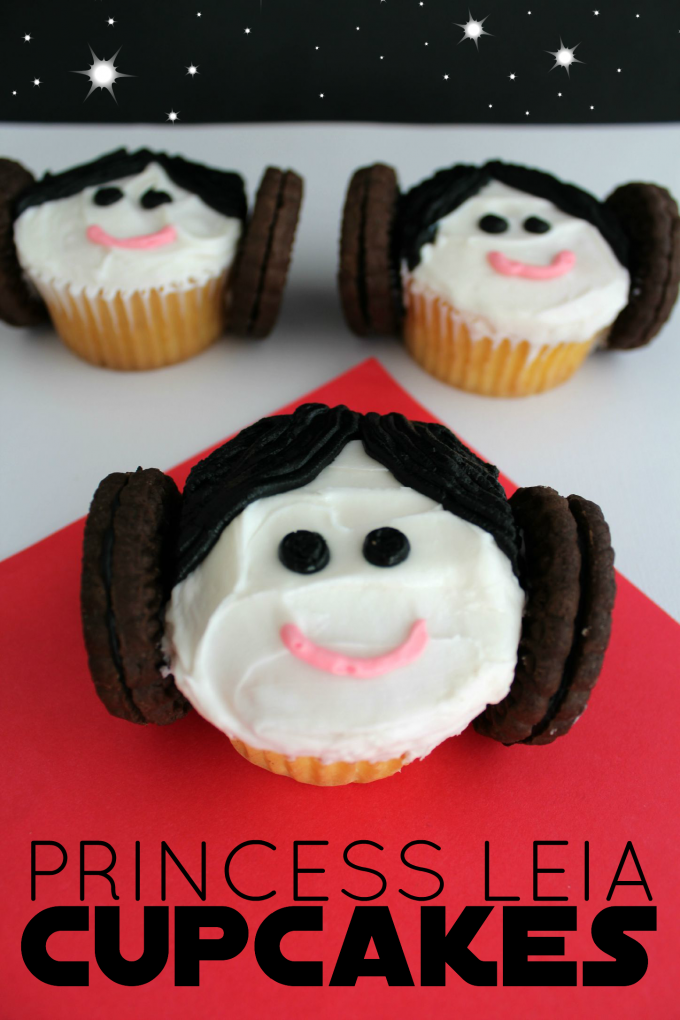 We are huge Star Wars fans around here, thanks to my boys.  We thought these Princess Leia Cupcakes were the perfect way to celebrate the launch of the new Star Wars paraphernalia.  I am hoping and praying that the Force Awakens is rated PG, as my boys are really wanting to see it!
Here's what you need to make these adorable Star Wars Princess Leia Cupcakes.
Ingredients:
Box cake mix or your favorite homemade cake recipe

White Buttercream Frosting

Red food coloring

Oreo Cookies
Mix up your cake mix as directed or you can also use your favorite homemade cake recipe.  Preheat oven to 350 degrees (F).  Line your cupcake tin with cupcakes holders and set aside.  Spoon the cake batter into the cupcake liners (fill about ½ way up) and bake for about 18-20 minutes or until a toothpick comes out clean.  Let cool completely.
2.  Generously frost each cupcake with a thin layer of white icing.  
3.  Using a thin writing tip (I used a #4) take your black icing, start one side of the hair first, from the center down. (You will want to create a middle part) Add the other side of the hair and then add the eyes.
4.  To make the mouth use a small amount of your white frosting and add one drop of red food coloring to make pink.  You can also use these heart candies to make a cute simple mouth if you have any on hand.  
5.   For the hair buns, use a dab of icing to stick Oreos to the sides of the cupcake liner. To get rid of the 'white line' from the creamy center of the Oreo simply run a thin layer of black frosting down the center of each Oreo.
Enjoy!!! ☺