Recently our family took an epic 10-day national park road trip and hit three of the country's most beautiful national parks in the process!  It is a road trip that none of us will soon forget!  We had such an amazing time and broke up the driving time to make it enjoyable for us and our kids (ages 10, 8, and 4).  Because our son had just finished fourth grade, we were able to get into all of the National Parks for free!  Day 1 and 2, we drove to Estes Park and explored Rocky Mountain National Park.  Below you will find a summary of the highlights of Day 3 to 6, including the road trip to Saratoga, then Jackson Hole and our time in Grand Teton National Park.
Day 3 (cont.) – Medicine Bow National Forest
As you head to Saratoga (about 3.5 hour drive from Estes Park), make sure to take the route that goes through the Medicine Bow National Forest.  It will add about 30 minutes of driving time but it is totally worth it!  The view at the top of Mirror Lake is gorgeous and one of the most scenic of the trip!    Take a few minutes to get out and walk around!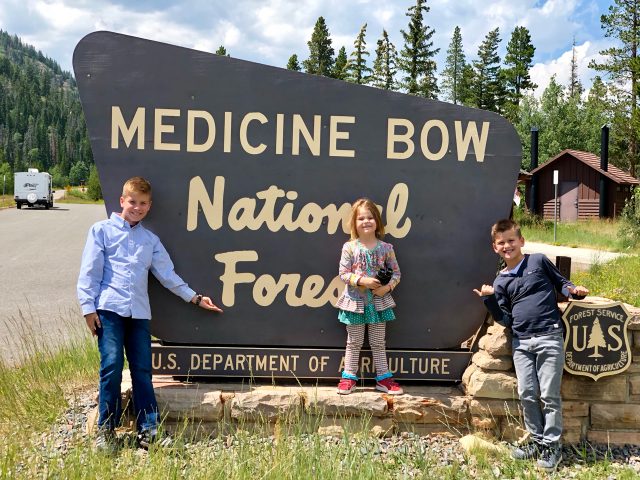 Saratoga Wyoming Hotels
We stayed in Saratoga Hot Springs Resort and it was charming in a western sort of way.  Just fair warning, as you drive up to the hotel, the exterior is not impressive in the least.  But the inside and the courtyard are beautiful and eclectic.  The pool and "hot tubs" are naturally heated through hot springs.
My only complaint about the hotel was that the pool needed to be cleaned out.  I understand it is part of a hot springs, but the bottom was slimy and there was lots of debris floating.  Myself and one of my children refused to swim because it was so dirty (we are spoiled with the grandparents very clean pool).  🙂
Saratoga Wyoming Restaurants
I highly recommend eating dinner at Bella's Bistro just a few blocks away from the hotel.  It is a delicious and highly-rated Italian restaurant with the most amazing atmosphere.  We sat outside on the patio and it was one of our favorite meals of the trip.
Day 4:  Jackson Hole, Wyoming
The drive from Saratoga to Jackson Hole, Wyoming takes just over 5 hours.  If you are staying in north Jackson, near Teton Village or the entrance to Grand Teton National Park, you could make a stop at Snow King mountain on your way northward if you want to try out Alpine Slides or other activities on the mountain (Tree Top Adventure course, Cowboy Coaster, Mini Golf, etc).
We have done the Alpine Slides many times and we found that Snow King does not even come close to comparing to Breckenridge.  But if you have never done Alpine Slides before, it is worth a stop!  Just keep in mind that you will pay $50 per child and $125 for anyone 7 and older for an Unlimited Day Pass. We opted to just do one ride down the Alpine Slides ($5-$16 per person) and call it good.
Just a word to the wise:  Everything is expensive in Jackson, Wyoming.  Everything.  Stop by the local Albertson's (105 Buffalo Way) and stock up on some food before heading to your hotel, otherwise you will pay $2.50 for a cheesestick in Teton Village!
Hotels in Jackson Hole Wy
Speaking of hotels, we stayed three nights at the Snake River Lodge and Spa in Teton Village and my kids declared it was the nicest hotel we ever stayed at!  We splurged a bit on this hotel because it was my husband's birthday and it was AMAZING!  Breakfast is NOT included but they do have complimentary snacks around 4-5 pm in the hotel lobby.  They also have an incredible indoor/outdoor pool that we enjoyed and we woke up to hot air balloons launching every morning!
Day 5:  Things To Do In Jackson Hole
Jackson Hole Aerial Tram
Take the Jackson Hole Aerial Tram up to the top of Jackson Hole skiing area for an incredible view and delicious waffles!  For a family tram ticket (2 adults and up to 4 children), you will pay around $90 to ride the tram to the top.
When you get to the top, you will find a small building called "Corbet's Cabin" that serves the MOST delicious waffles I have ever had in my life.  This was a bit of a splurge for us again, as this was my husband's birthday breakfast!  Waffles cost around $6-$8 each and are served on a piece of tin foil with no utensils.  Just another part of the experience!
After you've enjoyed waffles, be sure to hike around the top of the mountain and enjoy the breathtaking views!
Visiting Downtown Jackson
No trip to Jackson Hole, Wyoming is complete without a quick stop in Downtown Jackson, if for no other reason than to gawk at the four identical arches made entirely out of horns.  The Jackson Hole Chamber of Commerce puts on a free live shootout reenactment every evening in the summer at 6pm in the Town Square.  There are lots of nice restaurants around the Town Square area but we found they were all quite pricey so we indulged our kids and ate at the local McDonald's!  Haha!  🙂
Jackson Hole Rodeo
And if you happen to be visiting Jackson on a Saturday or Wednesday evening, check out the Jackson Hole Rodeo.  Our kids had never been to a rodeo before and they loved it!  They invite all of the kids to come out into the arena about halfway through the rodeo and chase the sheep!
Day 6:  Grand Teton National Park
First things first…  don't forget to download your Grand Teton Gypsy Guide (affiliate link) before you lose cell service!  This will be an invaluable tool for you as you explore Grand Teton National Park!  Not only will it serve as your GPS-enabled guide around the park, it will also offer some interesting history and geological information about the Tetons.
Things To Do In Grand Teton National Park
Although you can follow the Gypsy Guide and see the amazing sites, there are several places you don't want to miss.  I have highlighted our favorites on the map below (I've also included Teton Village, as that is where we stayed).
Jenny Lake
I would argue that this is the single best place to visit in Grand Teton National Park.  Take the ferry boat across the lake and then do the family-friendly .07-mile round trip hike along the river.  Unfortunately, the viewing area for Hidden Falls and Inspiration Point were both closed when we were there due to discussion of a fissure opening but the hike was still gorgeous nonetheless!  The views across the lake are fantastic and the incline is not too steep for kids (and post-ACL surgical patients).
Mormon Row
Mormon Row is where you will find the iconic and breathtaking views of the gorgeous old barns with the staggering Teton Mountain Range in the background.  As an anniversary gift to each other, my husband and I hired a local photographer and had family photos taken at Mormon Row (you can see a few of our family pics here).  There was a wildfire on the Idaho side of the Teton range, so the mountains were a bit hazy but they turned out beautifully nonetheless.  The photo below is from a non-hazy day!
And another hazy perspective…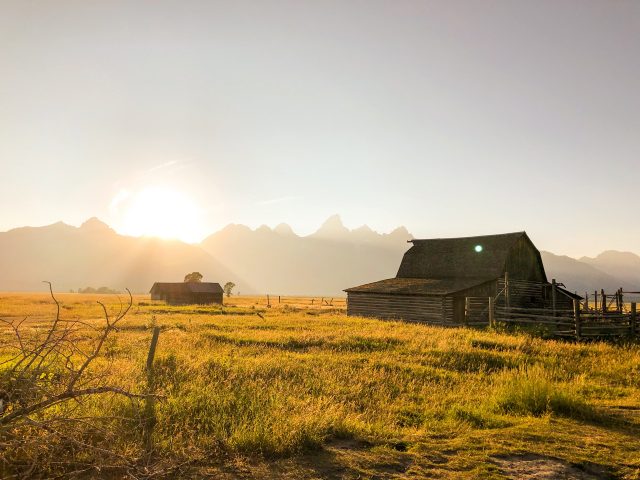 Colter Bay offers lots of options for recreation, including boat and kayak rentals on Jackson Lake. It is the most northern of all the Grand Teton Visitor Centers, so it is a great place to stop when heading up to Yellowstone.  We took a hike through a forested area and then wound around the lake for a bit.  If you plan to take a dip in Jackson Lake, pack some water shoes along as the shore is very rocky and hurts your feet.  Our kids loved hiking their shorts up and wading into the water!
This is such a fun place to enjoy a meal inside the park!  There was live entertainment when we stopped by and we got to enjoy eating outside with a truly remarkable view in the background.  Dornan's offers casual outdoor eating (but there is a large tent to sit under if the weather is bad).  Prices are higher than what we typically like to pay for a meal, but relatively reasonable for Jackson Hole!  Check out their website to see prices.
Toasting their root beers to a memorable day!
Click here to follow our epic road trip…
Things To Do In Estes Park With Kids
Best Things To Do In Yellowstone
Visiting National Parks For Free