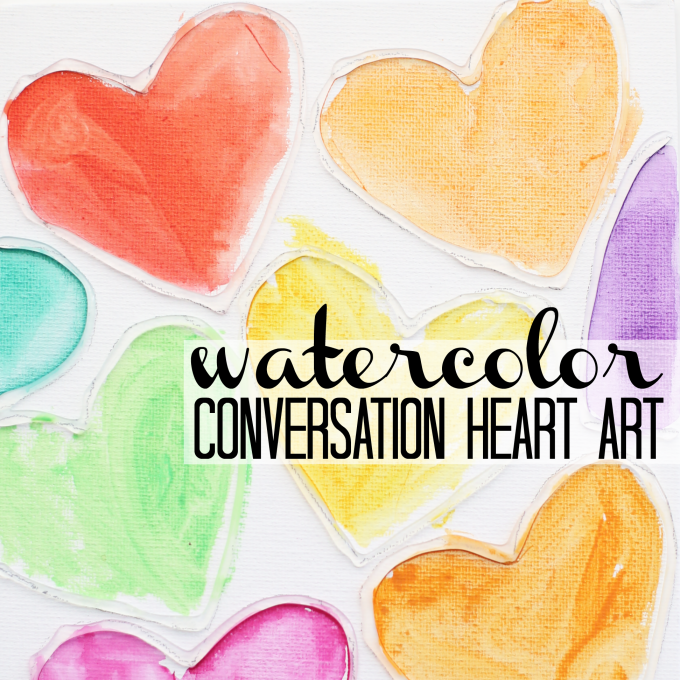 I am sort of obsessed with watercolor art…especially watercolor resist art.  So far we have made watercolor initial art, watercolor spider web art, and leaf watercolor art.
This Watercolor Conversation Heart art was inspired by all of the beautiful colors contained in a box of conversation hearts.  We chose not to add words to our hearts to keep our artwork simple, but you could easily add them.  This art activity is super simple but definitely something you will want to keep for years to come!
Here is what you'll need:
Watercolors (we love these)
Hot glue gun (we have a high-temp gun that I use and a low-temp gun I let the kids use)
Canvases that have been pre-gessoed (regular canvases won't absorb the watercolor)
1.  Trace several hearts on your pre-gessoed canvas.  If you want to add words to the inside of each heart (like a typical conversation heart), you can trace those letters as well.  We opted to just keep ours plain.
2.  Use a glue gun to trace over the pencil-drawn hearts.  I let my almost 8-year old use the low-temp glue gun to trace his own hearts.  I used my high-temp glue gun to trace my 6-year old's.  If you added words to your canvas, be sure to trace over the words with your glue gun as well!
3.  Give your child the watercolors and a glass of water and let him/her get busy painting inside each heart.  These are our absolute favorite watercolors as they contain beautiful colors not found in the Crayola set.
I just love how colorful this artwork is!
Isn't it pretty?
As long as your child can paint inside of the heart, he/she is able to make this beautiful art.  The texture of the hot glue creates a natural border for the paintbrush!