I love everything about Christmas.  But after it is over, I am left with an overwhelming need to purge and de-clutter.  The Christmas decorations come down immediately, which leaves the house feeling empty and plain (a somewhat welcome sight, to be quite honest).  This sweet Whitewashed Newspaper Snowflake Garland is the perfect (simple) winter decoration!
This was originally intended to be a project for the kids, but they didn't show much interest in it so I decided to do it all on my own.   I've found that cutting paper snowflakes is quite cathartic, as crazy as it sounds.  🙂
Here's what you'll need:
Newspaper
White paint (I used acrylic because it was all I had)
Scissors
Sewing machine (optional)
1. Paint the newspaper using white paint and let it dry.  I first mixed the white paint with a little water, but found that it showed too much newspaper.  Undiluted white paint worked best.  Afterwards, find a circle template and trace as many circles as you can on your newspaper (I used a Noosa yogurt top).
2.  Cut out the circles and fold them four times to make a teeny tiny triangle.  Snip, snip, snip…just don't cut all the way through vertically.
3.  Make several snowflakes.
4.  Use a sewing machine to stitch through the center of each snowflake, one after the other, to create your garland.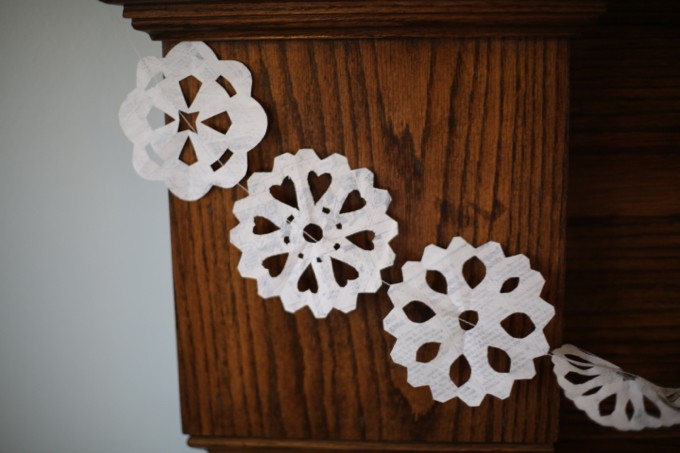 That's it!  A festive garland for January!