Since Valentine's Day falls on a Sunday this year, I wanted my boys to have a small valentine to give to the kids in their Sunday School classes.  I ran across this Valentine Acrostic using John 3:16 and remembered we had some leftover globe keychains from our Advent Boxes we made several years ago.
At the bottom of the John 3:16 Printable Valentine, you will notice that it says "the Ultimate Valentine".  This could not be more true.  The love that God has demonstrated for us in sending His own Son for us…it is unfathomable at times.  I hope this will be a great reminder to my children as well as to the other children at our church of just how much God loves us!
Here's what you'll need:
Cardstock
Thin Ribbon
Hole Punch
1. Print out and cut the John 3:16 printable.  Punch two holes in the top right hand-corner of each valentine.
2.  Thread a piece of ribbon through top of the globe keychain and then through the top hole on the valentine.  Thread the other end of the ribbon through the bottom hole of the valentine and the link of the keychain closest to the globe itself.
3.  Tie a ribbon and the globe keychain is now secure!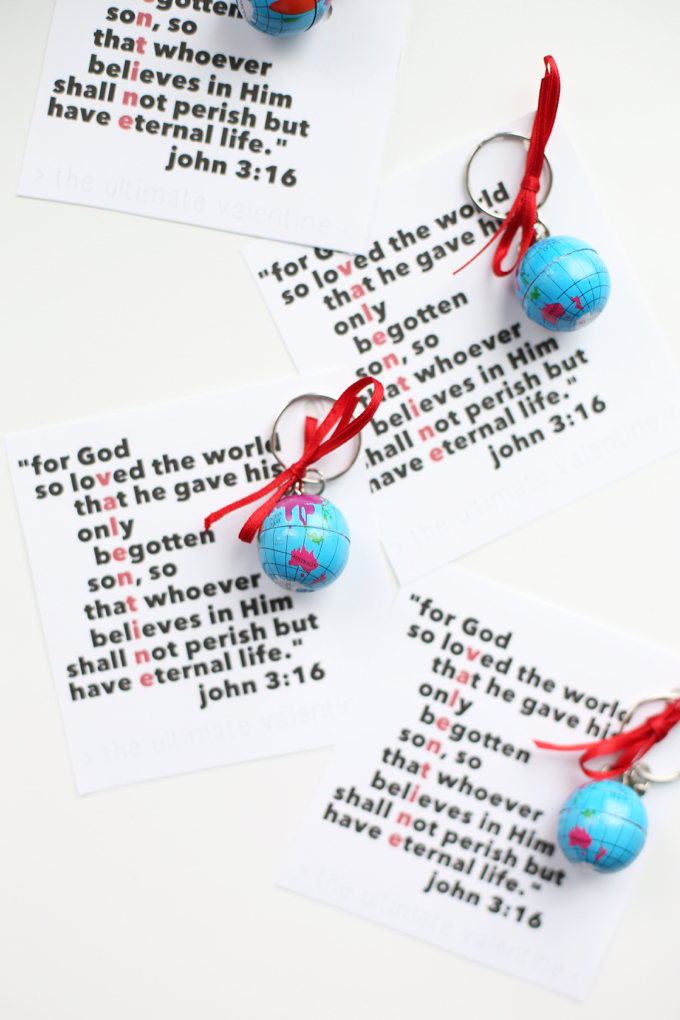 Have your child sign the back of the Valentine, if you wish.  Or just give it anonymously to bless others.  🙂